LEARN MORE
---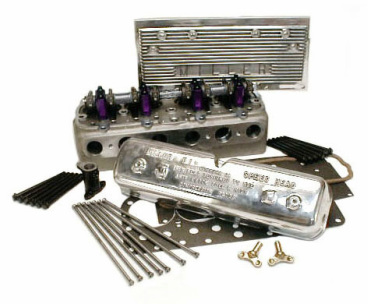 History
In 1998, Steve Serr, founder and owner of Miller Hi-Speed Head Co., orchestrated the development of new foundry patterns made from copies of the original two-port cylinder head drawings by Leo Goossen dated 1928. Steve's goal was to cast an A-356 aluminum alloy, heat-treated (to T-6 specifications) version of the square-shoulder Miller-Schofield-Crager overhead valve (OHV) conversion cylinder head for 1928–1934 Ford four cylinder engines. The result of over a decade of hard work is what you see here today and the results speak for themselves!

Advantages of the Miller Hi-Speed Head
The design advantage that the Miller head holds over any F-head (exhaust valves remain in the block) is that both the intake and the exhaust valves are in the head. Imperfect engine blocks with cracks between valve seats can again be put back into service. All that is needed are four good cylinders and bottom end of the engine block. The computer numerically controlled (CNC) machined overhead valve (OHV) unit will accept the stock intake and exhaust manifolds as well as the distributor just like the original cast-iron units. But why would you choke the performance?

Product Specs
Each, fully CNC machined, combustion chamber is 4 inches in diameter by 7/8 inch deep. It produces 6.5:1 compression when bolted on a stock short block with flat-top pistons producing an increase of approximately 2.25:1 compression ratio. The base of the head has been thickened from 1/4 inch to 1/2 inch allowing some wiggle room so that the owner, if they so desire, can increase compression further by milling that surface.

To further strengthen the head the long slot water passage on the spark plug side has been closed off. Those on the distributor side have been reduced to 5/8 inch diameter holes, the same size as in the head gasket—this reduces the possibility of water leaks. The ports remain the stock diameter (intake: 1–5/8 inches and exhaust: 1–1/2 inches) with sufficient wall thickness of 1/4 inch, for future porting work by the owner if so desired. Each unit is pressure tested for porosity before being shipped from our facility.

The head is equipped with stainless steel 1.94 inches intake and 1.50 inches exhaust valves installed—each having 11/32 inch diameter stems, 5/16 inch deep hardened seats, and cast iron guides. The valve springs, exerting pressures of 60 pounds closed and 130 pounds open, will be activated by shaft-mounted (1.5:1 ratio) roller rocker arms that provide greater valve lift even when retaining the stock base circle cam.

The head is machined for modern 14mm by 3/4 inch reach spark plugs and to a depth that puts the grounding electrode into the combustion chamber, thus eliminating "cartridge fire". You can find the exact heat range plug your engine needs at any auto parts store near you.
---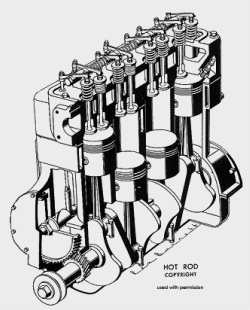 Cutaway drawing of an original Miller/Schofield/Cragar rocker arm head on a Model 'B' engine exposing the components and four-barrel simplicity. First appeared in the January 1951 issue of Hot Rod Magazine. Drawing by Rex Burnet.
For more information or to order, call now!
805-509-0893