PRESS
THE OFFY'S RED HEADED STEP SISTER
by Steve Serr
HOT ROD MAGAZINE
Four-Cylinder Engine Build - Building A Better 'Banger'--Contemporary Techniques For A Vintage Engine
Written by Ron Ceridono on April 8, 2008
Original article:
http://www.hotrod.com/how-to/engine/0805sr-four-cylinder-engine-build/
We've said it before, but it deserves repeating: Four-bangers formed the foundation hot rodding was built on. And while there is no denying today's engines are technologically superior in every way, vintage four-cylinders still have appeal, even though it's more emotionally so than practical. Contemporary engines do what they do with detached efficiency; you feel connected to the process of internal combustion with a vintage four-banger. They have a unique feel that appeals to the soul, an unmistakable sound-even the uninitiated won't think it's a small-block Chevy-and some aficionados say the little wisps of blow-by make 'bangers smell different than other engines.
While Model Ts still have a following, we're going to be dealing with Model A and B Fords for our purposes, and now is as good a time as any to dispense with the myth of the counterbalanced Model C-Ford never produced such an engine, but more on that shortly.
Ford produced the Model A from 1928-31; the engine displaced 200.5 ci, had 4.2:1 compression, and cranked out 40 hp. The crankshaft lacked counterweights and poured rod and main bearings were used, oil was delivered to the three-mains by gravity and to the rods by dippers on the caps, and the flywheel weighed a whopping 62 1/2 pounds.
The Model B four-cylinder was introduced in 1932, and the four-cylinder engine had undergone a number of changes while the Model 18 V-8 was in the spotlight. The most obvious was a new fuel pump on the right side-an easy way to tell an A from a B is the presence of a fuel pump mount. The engine now had pressurized main and cam bearings, and, thanks to slightly higher compression and improved carburetion, horsepower was up to 50. A new counterbalanced crankshaft was introduced late in the production year.
By the time 1933 rolled around, Ford had the V-8 pretty well figured out; most of the earlier problems had been resolved and sales of four-cylinder cars dropped dramatically, although the engines were still being sold as replacements. Interestingly, Ford still referred to the four-cylinder engines in '33 and '34 as the Model B. These engines had a shorter three-bolt water pump housing and a 39-pound flywheel. The myth of the '33-34 C probably got started because all these engines did have counterbalanced crankshafts and the letter C cast into the head. The facts are the '32 head also had a C cast in, the counterbalanced crank appeared in late 1932, and Ford never made printed reference to a Model C.
Building One Today
We talked to a number of people who deal with Model A restorers and found there's been a huge change in how that group views their cars. The folks at Arizona Model A, who sell Weber carburetor conversions and performance exhaust manifolds, among other parts, tell us engine modifications are much more common than they once were. Max Herman Jr. at H&H agrees and adds that even the engines he builds for restorations undergo a variety of modifications.
H&H Flatheads builds a surprising number of four-bangers each year, and even those destined for restorations receive insert rod and main bearings and billet aluminum timing gears, and are usually sleeved to standard bore size. Most of those modifications are aimed at reliability; for those who want to step performance up a notch, Max Jr. suggests an H&H touring grind cam, larger intake valves, and some minor porting. Typically, one of these engines makes around 65 hp and has a 3,500-rpm redline. For those who want another 10 or so horsepower, H&H suggests a "super-touring cam" along with taking 0.060-inch off the head for more compression. The redline is still 3,500 rpm, primarily due to an oiling system that still uses dippers on the rods.
Max Jr. also has a list of modifications to suggest for the more performance-minded street rod applications. First off is full-pressure oiling; that in itself ups the redline to 5,000 rpm. Billet main caps strengthen the bottom end; Pro-Flo valves, a hotter cam, and an aftermarket head all help a 'banger breathe. Max Jr. suggests two 97 carburetors, tube headers, and Mallory ignition. A combination such as this is good for 100-plus horsepower and will cruise with traffic all day long.
Finally, H&H will add one of Steve Serr's Miller Hi-Speed heads for those who want to pull all the stops. With 150 reliable horsepower on tap, and a surprising amount of torque, as well, few will believe there's a vintage 'banger under the hood-including the driver.
Is A 'Banger For You?
Do some research if you're interested in hopped-up four-cylinder engines; a good place to start is a subscription to FAST, an organization dedicated to the subject. The fact is, four-bangers aren't for everyone. They're going to require some tinkering from time to time, and you've got to appreciate a certain amount of mechanical eccentricity. 'Bangers can be built to be reliable and keep up with traffic, especially in a light roadster or coupe, but they're not going to perform like a V-8, so you'll be disappointed if your expectations aren't realistic. And then there is the cost involved. If there were ever an example of the old adage, "Speed costs money, how fast do you want to go?" a four-banger is it. A near-stock engine is very affordable, and even a warmed-up Flathead touring engine isn't going to break the bank, but an OHV conversion is where the real horsepower is and that will up the ante 3 to 4 grand.
Does building a car around an engine that's almost 90 years old make any sense in the great scheme of things? If you say no, that's understandable, and there should probably be a crate motor in your future. But, if the idea brings even a slight grin to your face, you just may be 'banger material.
Read more:
http://www.hotrod.com/how-to/engine/0805sr-four-cylinder-engine-build/#ixzz3msHX5Hqe
Follow us:
@HotRodMagazine on Twitter
|
HotRodMag on Facebook
---
Bonneville Salt Flats

—2005

On August 13–15, 2005 at the Bonneville Salt Flats in Utah, Pete Richardson, driving his full- fendered stock bodied 1931 Ford Model A coupe broke the Vintage 4 Cylinder/Vintage Gas Coupe (V4/VGC) class record (92.687 mph) he, himself, set the previous year. Using Ron Mosher's dragster engine with a Miller head and two Stromberg 48 carburetors for power, the fastest pass Pete made was a record breaking 99.379 mph during his back-up run. The 2005 record is a two-way average of 97.601 mph.

Many thanks to Ron Mosher, Jim Brierely, Dan Eubanks, and Jim McNair who performed all the tune-ups and other adjustments to help the coupe go as fast as it did. It's hard to get a car with the aerodynamics of a barn door to go 100 mph!

It was a thrill for us to have our Miller cylinder head on Pete's car and to contribute to the team's overall success!
---
The Great Race—2005
Submitted by Greg Cunningham
"The Great Race consists of a 14 day run across the country along a predetermined course with every departure, turn, speed change, pit stop, and arrival strictly choreographed...right down to the second. Every second off per leg results in a penalty which will net a score for each stage- low score wins. The Great Race—2005 was a grueling two weeks trying our skills, endurance, dedication, team work, and machine. But, what better way to see this beautiful country of ours than by combining one's love for antique cars, friendships, competition, and patriotism. For Sam and I, though, the Great Race is more than a fantastic journey...it is somewhat an obsession. Countless all nighters and thousands of hours and dollars have been spent over the years fabricating, preparing, and altering my speedster to be the ideal rally machine for us to compete with. My speedster will continue to be modified for many years, but one component that is settled on is the Miller Hi-Speed Head.

"Sam Goeppinger and I, Greg Cunningham, had prepared for the '05 rally very well. Yet, it was an absolute surprise when we saw how well we would do...let alone win the championship. But, just like the record set at Bonneville with your head; we couldn't have done it without the help of some good friends.

"The day prior to the start of the GR in front of the capital building in D.C., we compteted in what is called the Trophy Run. We won this day of competition, but more importantly found some fuel delivery problems. Although it kept me out in the parking lot for a few hours to repair the situation, we were able to fix it before the stakes grew the following day. The 100 vintage automobiles were sent on their way for the first stage of competition for a short run on Stage 1. Stage 2 and 3 were remarkable displays of our capabilities. Scoring a 2 seconds and 3 seconds respectively, we took the lead after stage 2 and never let go of it. Although we didn't win a stage for a while, our consistent low scores increased our lead virtually every day. however, on stage 7 we thought we were going to lose it all due to an engine failure. While "on the clock" my car began to shudder quite a bit. I told my navigator, Sam, we had to pull off and check it out. He is well equipped to handle unexpected time-loss, so we were hoping to find/fix the problem quickly and make the time up before the next check-point. Unfortunatley, when I let my foot off the accelerator the engine quickly came to a stop. "Oh-no", we both said. After pulling off to the side I quickly jumped out to inspect the car.

""OH-NO!", I yelled. I had immediately spotted the issue. The lower bolt holding the oil return tube to the side of the block had come out! After pumping out all the oil, we knew the engine was toast. While waiting for the "sweep truck" to pick us up we were trying to stay positive. But, that was really hard when the SPEED Channel camera crew showed up. After Sam ran them off I got to work pulling the valve-cover off to inspect my pride and joy. All appeared well, so I told Sam, "At least it didn't ruin the head."


"The truck took us to the lunch stop where we found some of our friends conferring to figure out what had happened to our car. After telling them, they immediately offered us whatever help we needed. That is one special aspect of the Great Race...everybody is willing to help. Even your competitors want to see you on the road. Larry Campbell offered us his spare engine, and Ron Kelley offered his expertise in the head swap. Knowing it was going to be a late night, Sam and I slept in the truck on the way to the hotel. Once arriving, we ate the biggest meal we had seen over a week so to be fueled up to get the engine swap done. With the help of a few friends (Donny Fite, Naomi Schnell, and, of course, Ron Kelley) we wrapped it up at about 6 a.m....just in time for a shower and coffee before the start of stage 8. Even after our all-nighter, we increased our lead some more the following stage. Thankfully, there were no more big surprises for us. We managed to make it to the day off where we could rest and perform the usual maintenance on the Model A. The next few days went pretty well. Yet, we were scared a little as we had our two worst scored days just prior to the last day finishing in Tacoma. But, with an overall lead of 20 seconds, we had the best sleep for the entire race that night. All we really had to do was rally clean and not make any big mistakes. We did. Not only doing good enough, but very well—winning the final stage.

"The two weeks built up to a finish that we will never forget. As we were about to be announced crossing the finish line as the 2005 Great Race Grand Champions, Sam said to me, "Greg, I know you've been fantasizing about this for 8 years." "Yes. I have", I responded. And with thousands of spectators cheering, confetti flying, and champagne spraying it was even greater than my fantasy had led me to hope for. The ceremonial finish and awards presentation that night made us feel like celebrities. Then it was back to reality when Larry called us early the next morning to help load the trailer before heading back to Oklahoma."
PICTURES
---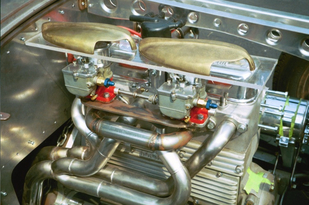 ---
---
For more information or to order call now
805-509-0893